PRESS FITTINGS, PIPES AND TOOLS
For over 40 years, we have been developing our range and bring an appropriate answer to your expectations thanks to your needs, your constraints, and our devoted support.
DIn this way, and to answer a constantly evolving market :
Béné Inox proposes a complete range of
press fitting
,
pipes
, and associated tools
We will answer your expectation and your needs no matter your working methods.
In line with low constraints applications,
press fittings
make
safe
and
economical
the installation of pipe networks, boiler rooms, and networks for industries.
Thus, we can imagine water treatment networks, compressed air inert gas, vacuum conduits, fire-fighting networks, heating and cooling systems, solar installations, and so on.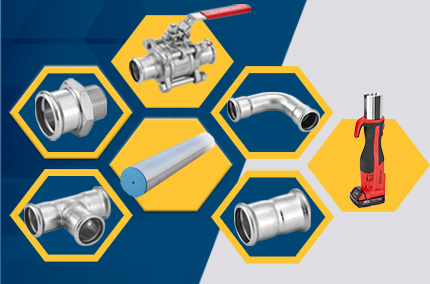 The main
assets
of the
seamless method
are :
-
Simplicity : The method is easy to operate et does not need any form of license (no welding qualification required).
-
Speed and handling ability : Saving time on assembly is ensured (30% average),
and the lower congestion allows interventions in areas difficult to access.
-
Reliability : With a perfect tightness (gasket adaptable to the fluid), and an assembly that cannot be taken apart (no risk of unexpected unscrew). Moreover, the stainless material ensures non-corrosion and durability over time.
-
Safety : The pressing does not cause any spark, flame, or raising of temperature, allowing intervention in sensitive environments.
Béné Inox's range of press fittings is composed of :
Fittings :
The proposed fittings are from 15 mm to 108 mm in diameter in 316L Stainless Steel.
The fittings available :
- 90°/ 45°/60°/ 30°/15°Male and female elbows
- Extention wall plate elbow / Tee / Couplings / Unions / Reducers / Bridges
- Three ways fittings / Non-return valve
- Pipe penetration / Gaskets
These different models are following :
ACS
,
CSTB
,
DVGW
norms.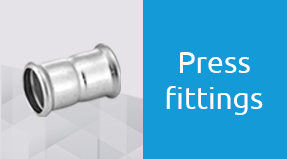 >> Discover our press-fitting range
Pipes :
Welded pipes are
welded
from 15 mm to 108 mm in diameter. They are delivered with caps to avoid any external intrusion.
The different models of
welded pipes
are available according to some norms :
- EN 10088, manufactured in EN 10312, and EN 10217-7 for 304L, stainless steel 1.4307
- EN 10088, manufactured in EN 10312, and DCGW-W541 for 316L, stainless steel 1.4404
Moreover, the anneal (of 316L) makes easier its shaping and bending.
This version has also,
ACS certifications
(for sanitary hot water)
DVGW
, and
CSTB
( for the construction industry)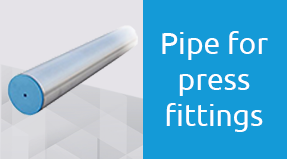 >> Discover our welded pipe (72292)
Pressing tools :
The pressing tool is an essential part of a good
operation of pressing
.
With the help of an appropriate
pressing tool
, the wrapping is complete in a few seconds, on diameters from 15 mm to 108 mm depending on models.
Our pressing tool outputs a pressing force of 32kN, necessary to operate on stainless steel.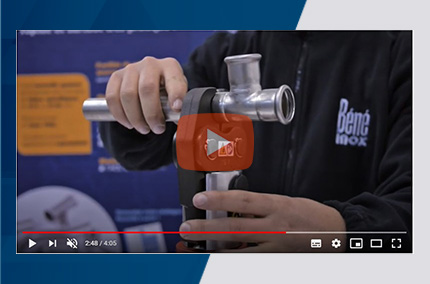 >> Watch our video on the pressing method
Pressing tools are available depending on the diameter of
welded pipes
:
-
Electrohydraulic pressing-tool cabled from Ø 15 to Ø 54
(
model 41171
) : compact, light, perfect for small diameters.
-
Battery pressing-tool Ø 15 to Ø 54
(
model 41172 equipped with Bluetooth
) : has versatility and autonomy.
Its data recovery on mobile allows perfect management on construction sites.
-
Battery pressing-tool Ø 15 to Ø 108
(
model 41175
) : this model is covering all possible diameters and is still equipped with Bluetooth, which checks the proper execution of a pressing.
-
Battery pressing-tool Ø 15 to Ø 35
(
model 41170
) : compact and light, this model is perfect for small diameters from 15 to 35mm.
A data transfer by USB cable is possible.
Pressing tools are proposed for sale or for rent (
Contact us
).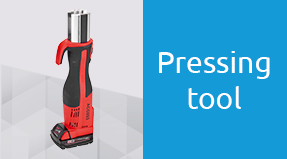 >> Discover our range of pressing tools
Jaws for pressing-tool :
Jaws are operating a type
"M" pressing
.
From Ø 42, the jaw has a round shape for better efficiency, and it is necessary to equip an adapter beforehand.
Ø 108 must operate the pressing twice. This characteristic is introduced in the video :
Press stainless steel fittings of diameter 108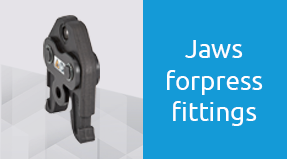 >> Discover our selection of jaws for pressing tools
Other complementary tools :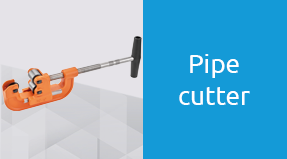 The pipe cutter :

The model
41177
and its 2 available sizes (from 10 to 60 Ø and from 60 to 115 Ø), is strong and can cut any pipe of any diameters.
Equipped with the wrench
841177-MOLI
, the tool is then perfectly appropriate to stainless steel.
41181
is also another version available. This one presents a density and a telescopic fast-forward, which easily fits pipes from 6 Ø to 76 Ø.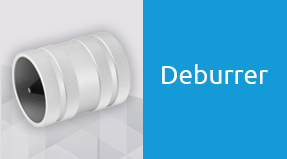 The pipe deburrer :

For a pressing of quality, it is important to have a clean cut. The usage of a deburrer at the inner and the outer side of the pipe prevents from damaging the fitting's gasket..
The available model :
41178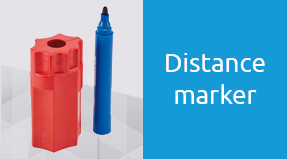 The gauge for insertion distance marking :

This marking tool adds a visual reference to the pipe and ensures that way the proper placement of the fitting before the pressing.
The marking tool (model
41179
) is convenient for the mock assembly.
>> Contact us for more information